Hey All,
I've had several requests for plans on building my new grabber that runs on a deer motor. Its pretty simple and inexpensive to make. Please see the full plan and parts list here: http://www.fulcrumsites.com/haunt/html/the_one-armed_grave_grabber.html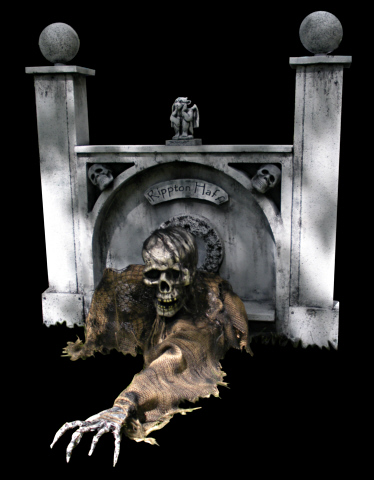 I've tried to be as specific as I can, I know some of you will have questions and I'd be happy to answer them as best as I can.
Happy haunting!
8:27 PM- 9/15/2010
Hello reader,
After about a year's worth of planning and parts gathering, I am proud to unveil the crank spider!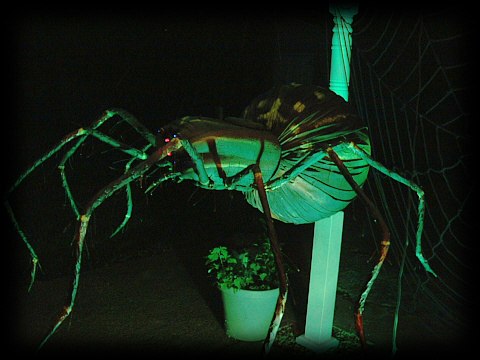 Click here to view the video...
Enjoy!
-=K
8:44 PM- 9/3/2008

Hey all,
I hope the winter holidays are keeping you out of too much trouble. I got an e-mail today from someone named Cyd asking me why I hadn't put up my 2007 photos yet. Laziness had a lot to do with it, to be sure.
There are a few really good ones in this batch, enjoy!
http://www.fulcrumsites.com/haunt/html/halloween_07.html
Have a great "other holiday" everyone!
8:10 PM- 12/26/2007

Current mood:
excited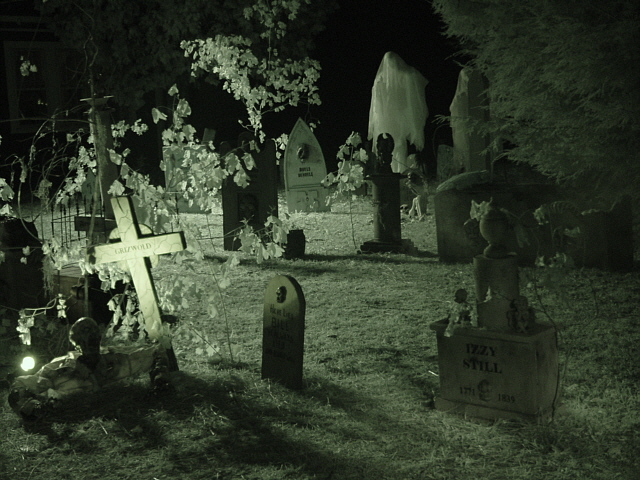 This year HGTV will be airing a Halloween Special dedicated to home haunters called "What's With That Really Haunted House?" They came and filmed us for the show, it rained cats and dogs during filming, but we had a great time.
The show will be airing Sunday October 28th (07) at 9:00pm.
-=k
4:22 PM- 10/24/2007
Hey all you crazy kids,
I know it's been a few months since I've been active, but the weather has suddenly taken a turn for the colder and that means one thing: get outside and make some Halloween.

I bought a sheet of 2" foam and carved me up a few new gravestones for the Boneyard. My three year old boy was a big help with the painting and weathering.

We also got a Budget Bart to flop somewhere. We pulled all of the weeds in the garden and stuffed them into his gaping chest cavity for added effect.

Here are a few photos, let me know what you think!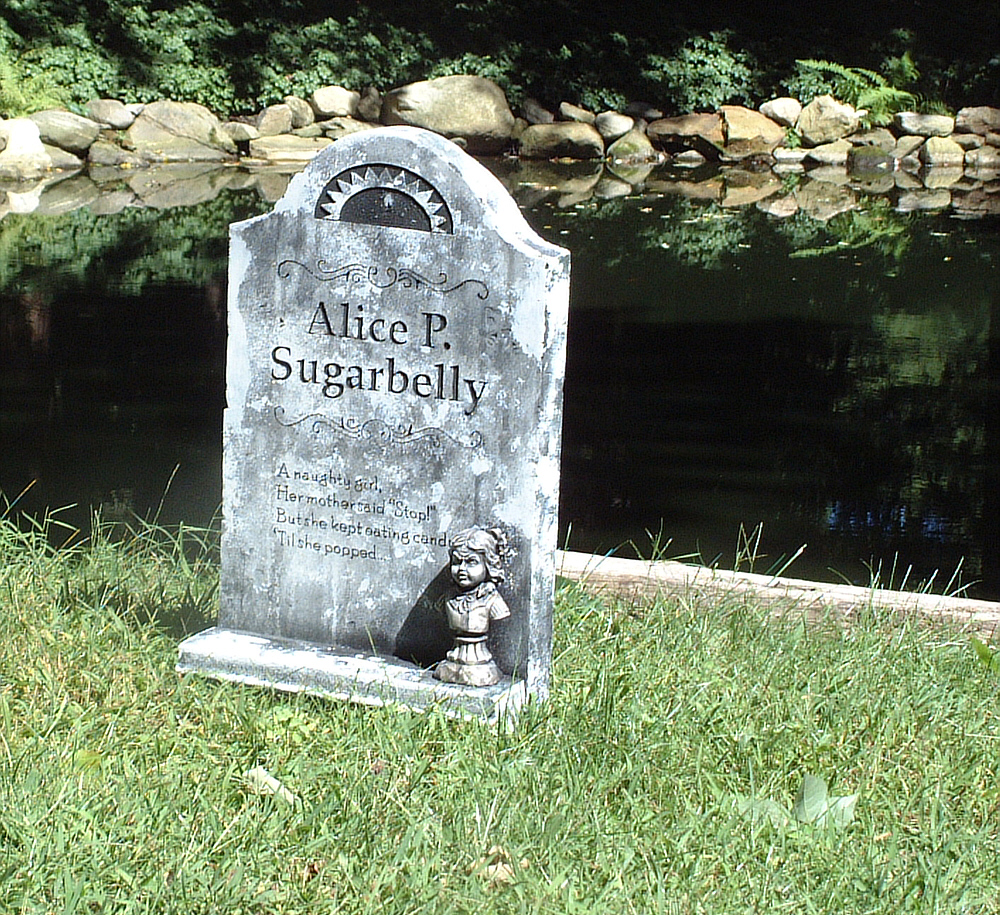 Alice P. Sugarbelly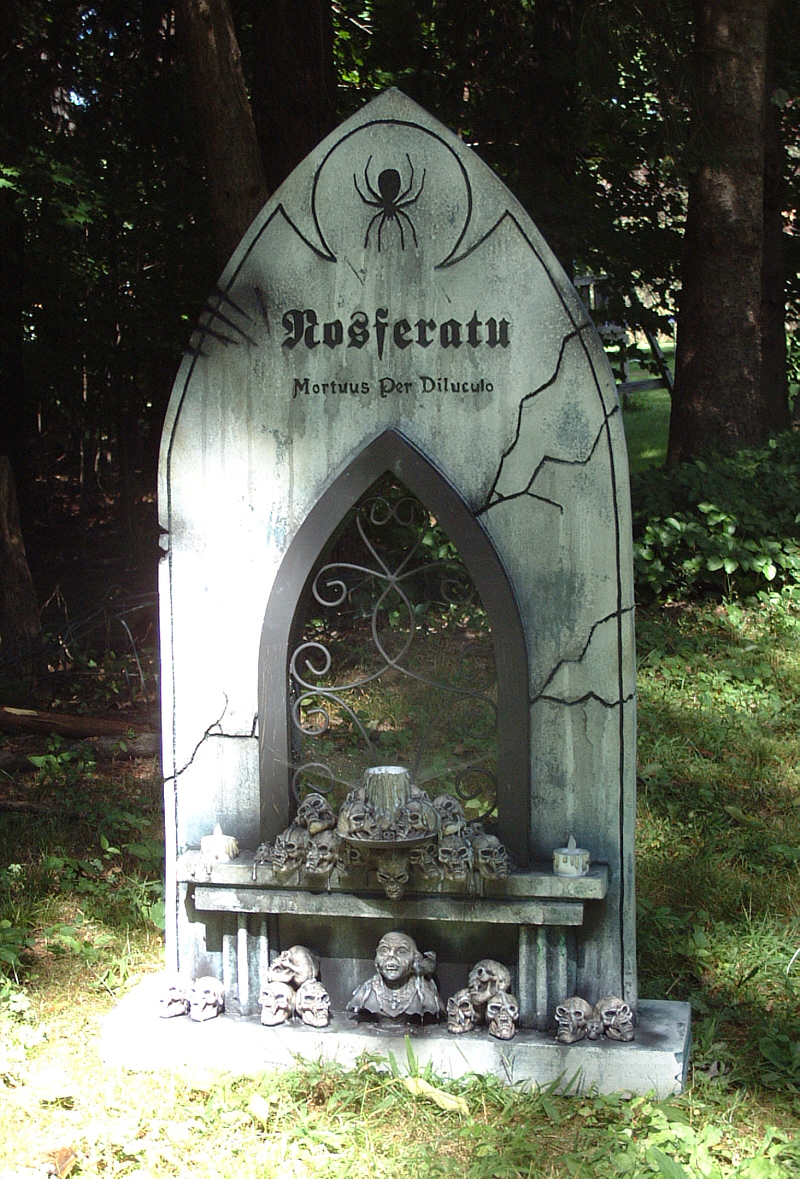 Nosferatu (Mortuus Per Diluculo means "Dead By Dawn" in Latin) This one also has the distinction of being my only tombstone with built-in lights.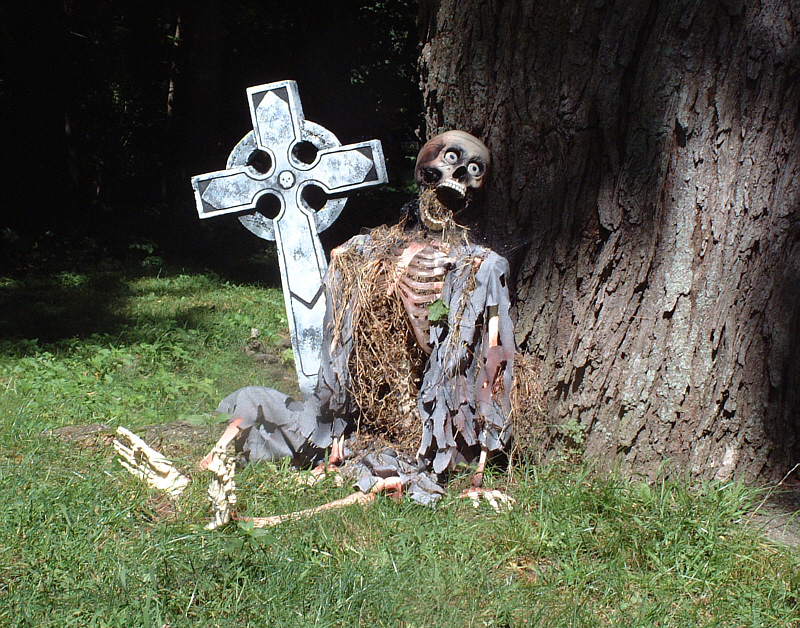 Celtic Tombstone and our Budget Bart skeleton, "Twitch". He has light up eyes and a quivering motorized jaw.

I have a few new projects in the works for 07, I'll post some new photos when I get these guys set up.
-=k
9:48 PM- 9/14/2007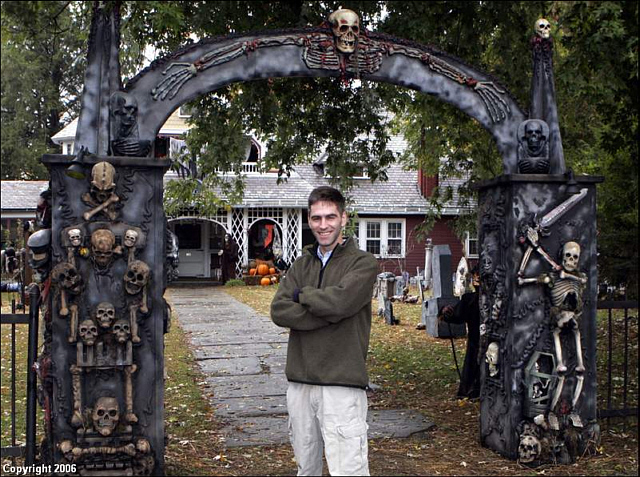 Brewster yard collects food - and attention - for Halloween
By MARCELA ROJAS
THE JOURNAL NEWS
If you go
What: Brewster Yard Haunt
Where: 2 Wells Woods Lane
When: opens at 4 p.m. on Halloween.
Information: www.brewsteryardhaunt.com.

(Original publication: October 19, 2006)

BREWSTER -A human rotisserie, a toxic swamp and skeletons coming out of the earth are just some of the elements that grace Dennis and Debra Saraceno's front lawn.

The couple, along with neighbors Laurie Manning and Kevin Kennedy, have put together the Brewster Yard Haunt, an elaborate homegrown display of spooky attractions on Wells Woods Lane that not only brings in hundreds of trick-or-treaters on Halloween but serves a local charity with its "Cans for Candy" food drive.

"We thought if we could have fun and help somebody at the same time, then all the better," said Manning, a property manager with Harvest Property Group. "This is a real positive for the village of Brewster."

What started out as a neighborhood haunted house some 20 years ago has grown into a spine-chilling array of sinister scenes complete with animatronic figures, eerie lighting effects and a ghoulish cast of characters. There's Dr. Demento who performs an autopsy in his laboratory, and monsters that may jump out at any turn.

"We started this for our son. Halloween was a great memory for me, and I wanted to pass that nostalgia on to him," said Debra Saraceno. "But now, thanks to Laurie and Kevin's contributions and enthusiasm, this has gone beyond our wildest dreams - or nightmares."

Indeed, the community project has caught the attention of producers on the Home and Garden Television show, "What's With That House?" Brewster Yard Haunt was selected as the featured home for an upcoming episode, "What's With That Haunted House?"

Crews were busy Tuesday filming the creepy spread. Producer/director Brian Ochrym said they found the Brewster residence on the Internet where it has been listed as one of the top haunted displays for homes.

"I think it's fabulous," said Ochrym. "The attention to detail is incredible."

Several local children in costume also took part in the filming.

"I like being on TV," said Hannah Fohr, 7, dressed as "The Corpse Bride." "I come here every day. The scariest part is when the garbage man pops out."

Preparations for the yard of terror take place all year, said Manning. Props, including tombstones and torture chambers, are all handmade, and it takes about two weeks to install the scary exhibit.

"I've never seen anything like it. It's so dramatic," said neighbor Tom Humstone. "I just like hanging out here."

This Halloween, the group is looking to outdo its charitable contributions that last year brought in 730 pounds of nonperishable foods and more than $200 in donations for the Putnam County Community Action Program's food pantry. This is the third year the display has benefited CAP.

The free event is open to all, but there is one catch.

"If you can make it to the door, then you get candy," Manning said.

But terrifying guests is not the group's only objective.

"It's about the response we get. We just keep growing every year and they really seem to enjoy it," said Kennedy, a graphics designer. "Our hard work makes it all worth it."
12:42 PM- 10/20/2006
Hey All,
I've been working steadily on my scarecrow, a few new tombstones and the W.o.T.

Here are some progress shots!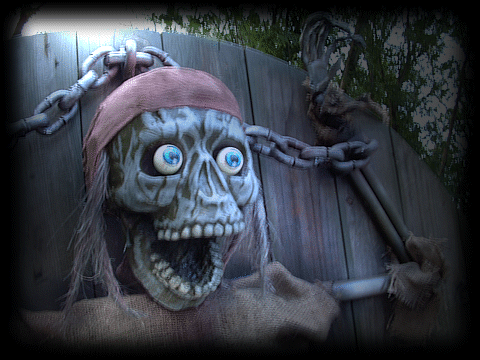 I have a ball that screams when you throw it coming soon from ebay (hopefully) and I'm going to try to put it inside my victim's head for some real torture sound!
The body is made from chicken wire, burlap, asst. pvc pipe, wire & tape hands and foam skull/chain... muy cheapo. I'm also thinking of adding some spray foam entrails.
The Wheel itself is pretty heavy and you have to put a fair amount of force into making it go all the way 'round... Its almost too heavy to move by myself, hehe.

Its going to compliment my Screaming Rack rather well!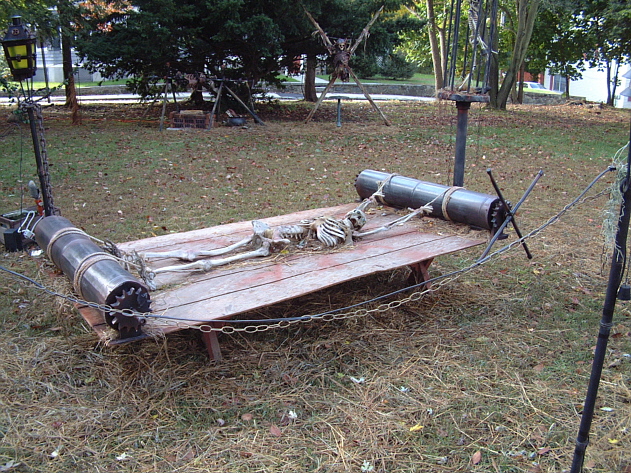 No Guts, No Gory...
-=k
8:28 PM- 8/24/2006
Hey all,
My neighbor was throwing away an old round picnic table and asked me if I wanted it. I brought it home and my wife suggested that I use it to make a prop. The table diameter is 5' and made of redwood, it is
heavy
.
After some planning and a few key purchases I was able to construct a sturdy base complete with heavy-duty castor bearings allowing it to be spun around. Next, I plan to shackle a skeleton to it and have the kiddies give him a whirl! This prop is gonna look great in my torture chamber (guillotine, pillory, rack, chopping block, cage...)
Here are some photos sans victim!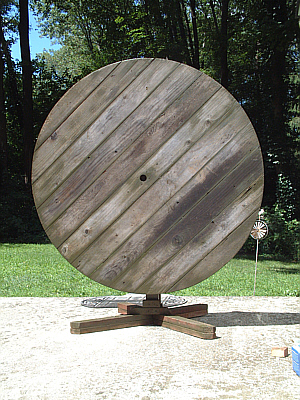 Front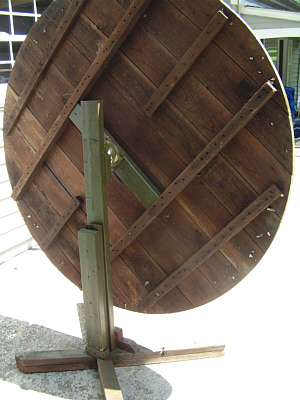 Rear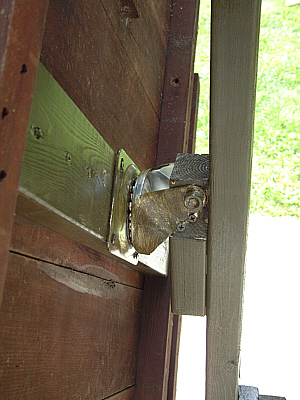 Bearing
I'll post more photos as the prop evolves...
1:56 PM- 8/11/2006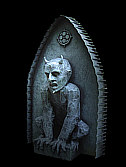 Laurie and I built this tombstone for HauntForum's Tournament De Tombstone contest. We didn't win (seriously, 4 votes for Claymud?, please...) but we did get a great new stone for our yard.
see how we did it here: http://www.fulcrumsites.com/haunt/html/the_guardian.html
10:03 PM- 7/26/2006
Hey you haunters,
I've just finished putting the final (almost) touches to my new and bigger grave grabber motorized prop. The new instructions call for a rotisserie motor, which is much slower than my old paint mixer motor but still gets the job done in a very creepy manner. A few people have e-mailed me with questions they've had, and I've hoped to address them in this new tutorial, enjoy!: http://www.fulcrumsites.com/haunt/html/mkii.html
7:31 AM- 5/28/2006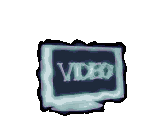 Hey all you kids out there! Don't think that I've forgotten you! I've just finally put the last touches to our haunt video: http://www.fulcrumsites.com/haunt/html/video_.html
ENJOY!
8:50 AM- 3/27/2006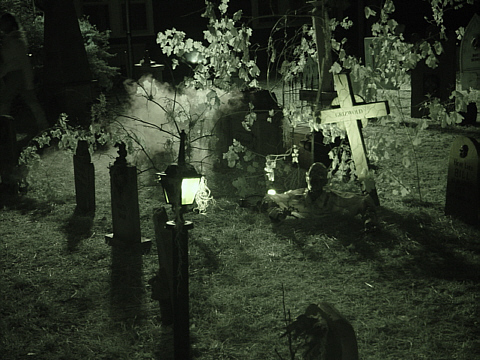 I got some of my night-vision shots up, very creepy... I'll have some better color pics shortly. I've said it elsewhere, but this was by far our best year. Perfect weather, perfect exectution. The props all worked and the batteries didn't run out until it was over! The night was filled with screams and giggles. Everyone waited until it got dark (a first) and those seeking a good scare or three were not disappointed... More than a few victims, I mean GUESTS... mentioned the web site as their main reason for coming (another first). We got over $200 in cash from the donations boxes and over 650 lbs. of food donations for our local food pantry!
check out my photos http://www.fulcrumsites.com/haunt/html/halloween__05.html
6:48 PM- 11/2/2005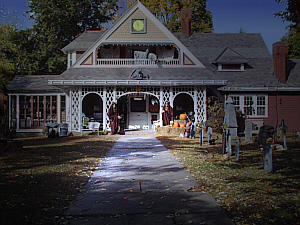 oh that's right, beeyotch! our 2005 gallery is here:
http://www.fulcrumsites.com/haunt/html/2005_new.html
as of 10/24, we are now 95% done with all props and lighting...
check it out!
10:54 AM- 10/24/2005
I didn't think I'd get a chance to make any new tombstones this year, but I had some down time last night and made this guy up.
The stone is a 1" foam sheet cut to shape. I used my Dremel and router attachment with a 1/4" cutting bit to do the lettering. The face is made from Sculpy and is attached with 2 1 1/2" screws... The phillips head of the screws makes for some cool looking "x" eyes!
8:41 PM- 10/12/2005
I finally finished my donations box... following some instructions I found on the web ( http://www.ghostsofhalloween.com/projects/donation_box/ ) (and subsequently taking liberties with them), I came up with this: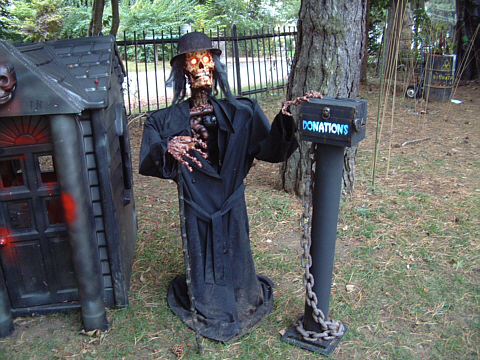 The box itself is an old cigar box with a slot cut in the top. I cut a section out of the front and made a window with some stenciled lexan. The blue glow was made with blue painters tape inside with a small battery-operated fluorescent light. I screwed on some handles and some sculpy accents to make it even spookier... Neighbors have been coming by and putting money in it for the past couple of days and we now have over 15 bucks!
9:51 PM- 10/6/2005
As you can see, we finally got around to putting up the pillars and fence! The panels are 2" pink foam insulation with white foam caps. They are held together with 6" screws at the corners and 3' green garden stakes to anchor them into the ground. The arch was built by laminating 3 layers of 1" foam together and using a shure-form tool to shape. The entire structure is around 12" high and very stable. People are always asking if they are permanent!
9:56 PM- 9/24/2005
Another prop done! This guy was great for about 3 days after we took him out of the box. He came complete with wireless mic, motion sensor, light-up eyes, working pointer finger and three of the funniest phrases I've ever heard out of a skeleton. Unfortunatly, he shorted out somewhere and I was forced to shelve him for 2004.
This year, I tinkered endlessly to get him working again. I was able to get the motors and sound unit working with a contact switch, I attached him to an occillating fan motor, painted him up and threw a shroud over him. As the fan motor gets to the end of its travel, the switch makes contact and "HEY BUDDY! STEP CLOSER!" eminates from his flapping mandible! I have him wired to a remote so he can survey the yard and cackle at unsuspecting guests at the push of a button.
4:43 PM- 9/13/2005
I shot this video of my completed grave grabber! Check out this link: http://www.fulcrumsites.com/haunt/gravegrabber.AVI
8:54 AM- 8/26/2005
This is the completed motorized Grabber, he is called "Gus", I'm going to set him up with a hacked motion sensor, a yellow bulb and place him somewhere dark... I bet he'll earn a few screams this Halloween.
see Gus in action!: http://www.fulcrumsites.com/haunt/DSCF0230.AVI (668k)
For more information about how this prop was made please click: http://www.fulcrumsites.com/haunt/html/the_grave_grabber.html
9:13 PM- 8/16/2005
Well after posting my entry to the http://www.halloween-l.com/bbs/viewtopic.php?t=193 forum, I have gotten some great reponses on how to best light the yard. This site: http://www.skullandbone.com/tutorial_01.htm had the best lighting tutorial I have yet seen, it will really help. I have also created a spooky lantern to use for great effect, I will post pics asap.
12:50 PM- 8/16/2005